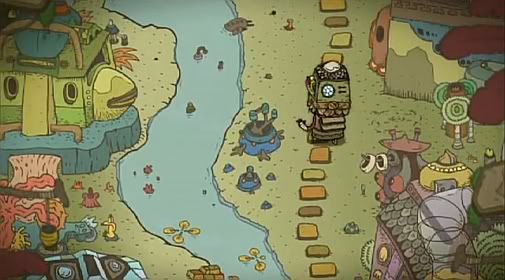 I wrote briefly about Malcolm Sutherland before. He's totally one of my favorite indie animators ever. His latest and longest opus, The Astronomer's Dream, is a mighty fine little trip through the mind and the universe and is worth a gander. Malcolm has self-released the film on a DVD together with 9 of his other films, and it can be bought directly from him here. Malcom's really nice, though, because it and pretty much all of his other films are up for viewing on his Vimeo account. He sets a fine example as a talented indie animator making genuinely interesting films and trying to establish a financial support loop with his audience by self-releasing his films on DVD like this.
The film is at first sight a simple, fun little romp about a cute but strange little square creature with an insatiable hunger floating through the universe on a strange humanoid ship, and the colorful and entertainingly odd contraptions that cover every corner of his habitat. But if you probe a bit under the skin, you'll find a philosophical mediation on the way in which our physical shell colors how we perceive the universe. An imaginative and fun film that leaves you with some meaty food for thought - couldn't ask for more. Also, I heartily recommend getting the DVD. Worth every penny to get to see the wonderful detail Malcolm packed into those delicious backgrounds up close and personal in DVD quality on a nice big flat-screen TV.
I thought the nine other films on the DVD were already accomplishment enough, but turns out the man is far more prolific than I knew. His Vimeo account hosts a ton of other films and tests not on the DVD. I adore all the little odds and ends he's put up on there, especially Shipoids In The Night, which he did last year. Reminds me a bit of the weird microscopic universe of Mirai Mizue, but this is pure Malcolm. This exquisitely odd test animation he did this year for what I presume is an upcoming film is also sheer coolness. A new direction he seems to be exploring these days is these landscapes of the imagination populated by strange creatures and drawn in lush, colorful detail. Malcolm is the type of animator I most like - always shifting about trying this and that technique or style to express what he's got in mind. There's such a range in his films, from photograph animation to hand-drawn animation mixed with live footage to stop motion to figurative to abstract to hand-drawn to flash, etc etc.
My favorite of his films though still remains Birdcalls, with its inventive abstract dance of shapes interpreting the songs of birds. He's really great when he's improvising in animation like this. (Here is another short test animation in this abstract vein) Apparently a more recent film entitled Forming Game that he made for the NFB is based on this kind of more extemporaneous process. It isn't on his Vimeo account but you can see a clip, a making of, and an interview. Malcom's description of his thought process is worth a listen. It's an inspiring and stimulating peek into one of our best animator minds out there today.