Add this young yet remarkably prolific indie animator the ranks of the synaesthete audiovisual creators who can make their own musical as well as video art. Despite only having been active since 2006, he's got more than 90 minutes of animation under his belt in the form of shorts of varying length plus one 25-minute mini feature, much of it scored by himself.
Ryu Kato's animation wordlessly explores a symbolically dense landscape of the mind that's by turns menacing, twisted, haunting and delicate. The animation is tactile and richly conceptualized, without superficial polish, even crude at times, but never for a moment anything less than convincing. His images speak to your subconscious rather than your rational mind. In this respect he's in good company among his peers. The emerging generation of indies seem steeped in a tone of whimsical skepticism and oneiric irony, and share the same grainy tactility and unabashed crudity of expression. There's beauty aplenty in his films, but it's not the pretty beauty of anime. Ryu Kato is a great exemplar of today's indie scene: a weaver of surreal visions of modern life.
Thankfully, Ryu Kato just started his own website and Youtube channel, so you can see many of his films online. Visit his site at ryukato.net.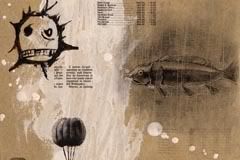 You can't go wrong wherever you decide to bite into his body of work. He got off to a running start with Recorder in 2006, an abstract cascade of random objects, charts and paint splashes without narrative or characters - an endless succession of butterflies transforming into guitars transforming into beetles. Animation in its purest form showing that right from the beginning you knew that this was an animator to look out for because he wasn't in thrall to the symbols and narrative forms that lure so many of his generation. The overload of information reminds of Powers of Ten while the whimsically menacing inky doodles and creative transformations remind of Koji Yamamura and the strobing news clippings and diagrams remind of Paul Glabicki. All of it is tied together into a pleasing audiovisual flow by catchy pulsing music presumably of his own hand.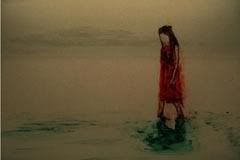 There's a certain sensuous pleasure to be had in watching his films that I think comes out well in his next film, Calm of 2006. Some films are interesting artistically but perhaps not a pleasure to watch the way this film is, with its blurry, dreamlike images and erratic but harmonious music blending glitchy electronic tones, tinkling bells and downbeat washes of guitar. A girl with no face takes on the form of a bird, a fish and a dolphin and flies around her environment. "Have you ever seen the color of the mind?" the film asks us at one point. Less a story than a visual poem, the film is at all moments gorgeous and enrapturing, with lush animation and beautiful if deliberately muted and muddied textures, and leaves a great aftertaste. The dreamlike imagery and tone (even the timing of the animation) remind of Naoyuki Tsuji. The technique appears to be paint on glass, like Aleksanr Petrov, but much more ephemeral in execution and not as naturalistic and technically minded. There are also occasional wiry line drawings. As the title implies, it's a delightfully calming film to watch.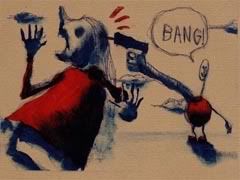 The shorter Around from 2007 is anything but. For his next film Kato runs at a full-tilt sprint in the opposite direction on a tour-de-force of constant movement and shifting perspectives that's a relentless onslaught of shocking and bizarre imagery. It's a thrilling ride of a film. Each of his films so far shows him to be a consummate animator. Not only does he shift to a different media with each film, the tone and form of the films are all different. Even if his drawings aren't particularly good, he puts a lot of work into making the animation rich and dynamic. This film is the best showcase of Ryu Kato as a powerhouse animator. This film perhaps more than any of his other reminds me of Koji Yamamura, in his more frenzied and wildly animated moments (more Mt. Head and less The Old Crocodile). There's even a hint of Priit Parn and Phil Mulloy, with the grotesque scrawled figures providing a darkly humorous commentary on brutality and violence in modern life. I know it's ludicrous to go on namedropping, but this film even reminds me a bit of Georges Schwizgebel in the way it relentlessly moves forward through the landscape, creating a perpetual first-person perspective metamorphosis sequence.
So far we're only two years into his career. Very early for any artist, especially as he was still in school this whole time. Ryu Kato was born in 1980 and graduated from the Tokyo University of the Arts in 2007. And yet he's created works that are genuinely compelling if rough around the edges.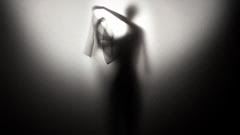 Jump two years ahead to 2009 and he produced the absolutely lovely and delicate and frankly much more sophisticated (in its restraint) installation video for fashion designer Yuima Nakazato. Light glows and dances around a veiled figure as she moves her arms about delicately while ink drifts by, to a backdrop of emotional ambient washes with an understated ticking rhythm. It's consistent with his personality in that it's evocative, densely layered and ethereal, and in that it represents another shift in technique, but it's significantly more aesthetically refined than anything he's done so far. Although his previous films were cool animation, they had the hallmarks of a cultural milieu and youth, whereas this seems like a world-class piece of audiovisual art from a much more mature artist. You wouldn't be able to track the visuals back to Ryu Kato based on superficial stylistic traits the way you could his earlier films.
I skipped quite a few films between the latter and Around because most of them aren't available for viewing online, but as you can see from his filmography, he was incredibly active between 2007 and 2009 and continues to be. Notably he created a 25-minute mini-movie entitled The Clockwork City and a series of five videos for the tour of a band called Remioromen, among others. Music clearly is important to Ryu Kato, as he's a composer himself, and one of his latest creations is a great music video for the song The Old City by the rock band People in the Box. It's an epic journey through a funhouse city of the imagination packed with his usual creative imagery and dreamlike atmosphere. There's lots more to explore from this still young artist, so hopefully the rest of his filmography will become available eventually, and surely there is much more goodness to come. Ryu Kato may not be well known yet, but that may change. He's one of many talented young indies who emerged in the last few years.
Incidentally, from March 18-21 The Tokyo University of the Arts AKA GEIDAI will be holding a screening of the short animated films made this year by second year students. Who knows what new talent will emerge from the school this year. Frankly all of the films look great to me in the trailer they've put up on their home page. (You can see more images from the making of each film on their blog.) There's a great variety - stop motion, CGI, hand-drawn, abstract, for children. I particularly like the feeling of Masaki Okuda's Uncapturable Ideas. The Tender March by Wataru Uekusa looks well animated with a sharp anime/superflat style. (Check out some of the cool art up close to see the details.) Mariko Saito's Ygg's Bird looks to have a gorgeous and unique visual scheme. I'm very curious to see Writings Fly Away by Ryo Orikasa to see if he can carry that concept for 13 minutes. It's about the intersection between words and visuals, and it's dedicated to Borges, who continued to eloquently explore labyrinthine worlds made of words even after going blind.