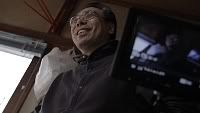 Stefan Nutz is currently engaged in a very interesting one-man project. He is going around interviewing Japan's indie animators on video for the purpose of eventually putting together a documentary about Japanese indie animation.
You can see the progress of his project, and perhaps provide him support and ideas for questions, on his web page at:
Stefan is based in Austria, and has been dealing with Japanese film for about a decade now in his capacity as a director, editor and sometimes DP for the ORF (Austrian Broadcasting Agency). He is hoping to put together a 60 minute documentary possibly to be supplemented with 30 minutes of animation highlighting the work of the creators he interviewed.
Stefan's purview is not limited to indies, however, as witness the latest post on his blog, in which he reveals that he will be visiting Studio 4C later this month. Great news. Studio 4C is not just the studio we all love. They act as something of a missing link between the industry and the indie scene, working within the industry but with the mentality of independence of an indie. I wouldn't have thought to include them in a documentary about indie animation in Japan, but let's face it, they've produced some of the most creative and appealing animation in Japan, and this is one of the few times they'll have been covered for a foreign audience, so it's a great idea to balance out the project and shed light on the various facets of 'being indie' in Japan.
The image above shows Naoyuki Niiya, director of the old classic indie film Squid Festival that I wrote about in 2005, whom Stefan has interviewed already. Also interviewed will be Hiroshi Harada (Midori), Keita Kurosaka (Midori-ko), Mirai Mizue, Tomoyasu Murata and Atsushi Wada, among others.