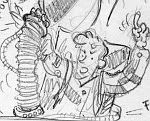 It's fascinating observing how life changes people. What are you doing today that you never expected you'd be doing 10 years ago? Here I was listening to the 2004 album Game Boy by a chiptune artist who goes (went) by the name of Lo-Bat, and I look at his home page and find that he's evolved into a graphic novel illustrator. I like his style, too - loose, classical, whimsical with a very European vibe. I'm fascinated by the phenomenon of exercising different vectors of your brain and becoming an artist or expert in two otherwise unrelated fields.
I know of a few musicians who've made their own music videos, or are full-time audio+visual artists: Rymdreglage, Nobody Beats the Drum, El Combolinga, Impactist, Julien Ribot, to name but a few...
Obviously it is much easier to experiment in different arts in the comfort of your home now just with a little software, resulting in more artists trying their hands at media seemingly unrelated to their 'home' field. But all the way back to Norman McLaren and his amazing Synchromy you've had artists crossing over the divide, so it's nothing new. There's always been the urge to try your hand at a new art; it's just easier now. I know that all it takes is giving it a try, and it's probably more manageable than it seems, but it still amazes me when I see someone who's a great musician making great visuals. I find it hard to believe they're done by the same person.