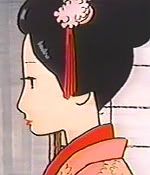 This image is from the "Growing Up" episode of Nippon Animation's 1986 TV show Animated Classics of Japanese Literature. I watched most of the show way back when. What was most appealing about it was its omnibus approach to the production, with a different team heading each episode. It even features work by ex-A Pro folks like Osamu Kobayashi and Yoshio Kabashima.
The Growing Up episode was by far my favorite of the lot for its unique drawing style. The characters had this stately elegance that I'd never seen in any anime before. The designs were classy and classic, and the movement more weighty and calculated and beautiful. It was all so graceful and lovely, every line so delicate and perfect, kind of like Seiichi Hayashi's drawings come to life. (Seiichi Hayashi incidentally drew the drawings for the end credits) It was also directed very sensitively, complementing the low-key and emotionally subtle story of a young girl and her friends growing up in the late 1800s in Japan. It was one of the best animated literary adaptations I'd seen. I haven't rewatched it in a while, but I suspect it still probably holds up fairly well.
Isamu Kumada was the director, character designer and animation director of this episode. I looked for more work by him because I wanted to see more in this vein, but I couldn't find anything quite like this, though as I discovered upon looking into it, he has been prolific doing all sorts of other things.
Isamu Kumada's start in animation is still a mystery to me. All I know is that he was born in 1940, graduated from Tokyo University of the Arts and started out working on anime in the 1970s and 1980s for the likes of Nippon Animation and Topcraft, and then shifted to doing TV ads from his independent studio Studio Arrow, which was just himself and Susumu Shiraume. Isamu Kumada is today best remembered as a TV ad director. He was very prolific in the 90s and 00s in advertising. It was right before he made the switch to doing ad work, at the end of at least a good decade of working in the industry, that he made the wonderful Growing Up episode.
Studio Arrow appears to go back at least to 1976. I found Studio Arrow credited with the animation for the following six early episodes of Group Tac's Manga Nihon Mukashibanashi AKA Tales of Old Japan.
Waterfall for the Aged (#19A, 1976)
The God of Wind and the Children (#22A, 1976)
The Dragon in the Swamp (#33A, 1976)
The Ghost Ship (#45A, 1976)
The False Idol (#61A, 1976)
The Treasure Geta (#67A, 1977)
I don't know whether Kumada and Shiraume had an official studio at this time or they were just using the title as a collective pen name the way Osamu Kobayashi and Tsutomu Shibayama did around the same time on the same show with "Ajia-do" (their actual Ajia-do studio wasn't founded until 1978). But Kumada was 35 at the time, so it's hard to believe he was just starting out in animation. Thus there seems to be something missing, something before this - how he got into animation I'm still not sure.
Kumada and Shiraume were involved with Topcraft for a while around this time, because at the very least I've found them credited with layout on The Flight of the Dragons (1982).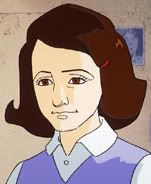 Kumada and Shiraume also worked together on numerous Nippon Animation productions around this time, including Cuore: School of Love (1981) and Hey! Bunbu (1985-86), on which they were credited together with character design. In a solo capacity, Kumada was the character designer of Nippon Animation's Diary of Anne Frank TV special (1979), Meesha the Bear Cub (1979-1980), Alice in Wonderland (1983-84), Blinky the Koala (1984), Aesop's Fables (1985) and 80 Days Around the World (1987-88) while Shiraume designed Mori no Tonto-tachi (Forest of the Elves, 1986) for Shaft. Isamu Kumada and Susumu Shiraume are together credited for the animation of Growing Up.
After this, sometime in the late 80s, Studio Arrow appears to have shifted focus to work mainly on TV advertisement. Kumada designed posters and wrote picture books, and even published a guidebook called Textural Expression for Designers in 1987. From Studio Arrow, he and Susumu Shiraume produced a large number of TV ads for the likes of Daihatsu and Nissan. To name but a few examples, they did the Notte Kangaroo series for Nissan; the Lismo series for mobile phone company KDDI; and this Badger ad from 1990 for Tokyo Electric. I also discovered that Kumada directed two OVAs released in 1992 adapting classic picture books with engravings by Jiro Takidaira - one entitled The Mountain of Flowers and the other entitled Mochimochi no Ki. (Tadanari Okamoto also adapted Mochimochi no Ki.)
In the course of researching this post, I learned that Isamu Kumada died on September 4, 2009 at age 69.

Isamu Kumada's Textural Expression for Designers, a recent picture book, and the video for The Mountain of Flowers
Kumada also participated in this series of 10 "video book" adaptations of classics of Japanese literature. Each story is read aloud by a narrator to a backdrop of illustrations by different illustrators. Many of them besides Kumada are animators. In fact, most of the people seem to be people who worked on Manga Nihon Mukashibanashi - Gisaburo Sugii, Marisuke Eguchi, Hidekazu Ohara, Mitsuo Kobayashi, Takamitsu Miwa, Hirokazu Fukuhara - so it appears to be kind of an offshoot of that show.
Incidentally, Studio Arrow helped launch the advertising career of Hidekazu Ohara, the great animator responsible for Cannon Fodder and Professor Dan Petry's Blues, not to mention a bunch of episodes of Manga Nihon Mukashibanashi. (The delightfully stylized razor blade kitsune episode he did, which I talked about before here, was in fact what got him the job to do Cannon Fodder - Eiko Tanaka showed a tape of the episode to Katsuhiro Otomo, and that is what got him the job offer.) Ohara worked at Studio Arrow for a while before going independent and going on to become equally creative and prolific and sought-after a creator of animated TV ads. It's from them that he learned the stylistic versatility and blend of techniques that makes his work stand out. He did the whole Qoo series, the Gohan ga Susumu-kun series and the famous Aleph ad that vividly brought to life the Slam Dunk characters.
Isamu Kumada and Hidekazu Ohara are an example of a type of animator we don't hear about much in anime - a more flexible animator who is able to switch between radically different styles depending on the subject matter, who doesn't just work as a cog in one post, but switches around doing different things depending on the project, trying out different styles. They're much more rounded and flexible. It's this experience that paved the way for the creative and unusual styles of Cannon Fodder and Professor Dan Petry's Blues. Young animators today who know nothing but anime style drawings could use this kind of exposure to different styles to expand their palette. A large amount of creative animation work in Japan has been done in advertising work, and therefore is mostly hidden away and disappears quickly and doesn't get attributed to the artists, so it's hard to keep track of. It's a whole hidden side of the animation industry that doesn't get talked about as much.
---
As a supplement to this post, reproduced below is what I wrote about the Animated Classics of Japanese Literature series some 10-odd years ago in the old WMT database I used to run. Just now I tried looking online for information about the staff for each episode of this series, but I couldn't find anything, which is why I dug this up. For some reason, back then I transcribed the credits of all the episodes I had rented. A few episodes are missing, but it's still better than nothing.
Looking over this, I noticed that the Asunaro Story episode that I also liked was done by the Ajia-do team of Osamu Kobayashi, Tsutomu Shibayama and Yumiko Suda.
---
青春アニメ全集 Literary classics animated
Started airing April 25, 1986
35 episodes
Produced by Nippon Animation/Dentsu Osaka Branch, aired on Nihon TV
Chief Director: Kurokawa Fumio
Character Supervisor: Mori Yasuji
Ending Illustrations: Hayashi Seiichi
An omnibus of famous works of Japanese literature. Each episode of this series was done by a different creative staff, like Manga Nihon Mukashibanashi, an anthology of Japanese folk tales, resulting in a refreshingly different look and feel from episode to episode, something which is unusual in anime. The resulting variety of styles well complements the different authors represented. Several episodes stand out from the rest, foremost the well-crafted and stylish Growing Up episode by Kumada Isamu. Asunaro story is one of the more lyrical and affecting stories in the series, and Hoichi, again the work of Kumada Isamu, is also good; but even taking the less well done episodes into account, the fact that this series is original and genuinely interesting to watch makes this one of Nippon Animation's best works of the 1980s, a decade which was otherwise downhill for this studio which created masterpieces like 3000 Leagues in Search of Mother and the other early WMT series in the late 1970s.
Student Days is not listed as having been aired at the time of the original Japanese broadcast in the Japanese database I've consulted for the episode listing. Two previously unaired episodes were aired at the end of 1987, a year after the TV series finished broadcasting, so presumably this is one of those.
English sub: The whole series was released with English subs on VHS by Central Park Media. Their credit translations are incomplete and incorrectly list the same animators and art director in each episode; I've made an accurate episode-by-episode credit list (still in progress).
#1: The Izu Dancer
Original work: Kawabata Yasunari
Director: Takasuka Katsumi
Animation director: Kabashima Yoshio
Character design: Kabashima Yoshio
Screenplay: Yoshida Kenji
Music: Sakata Koichi
Art director: Kawamoto Shohei
#2: Sea Roar Part one - Spring awakening
#3: Sea Roar Part two - Summer storm
#4: The grave of the wild chrysanthemums
Original work: Ito Sachio
Director: Kumada Isamu
Animation director: Iimura Kazuo
Character design: Kumada Isamu
Screenplay: Yoshida Kenji
Music: Sakata Koichi
Art director: Mukuo Takamura
#5: The wind rises
Original work: Hori Tatsuo
Director: Morita Hiromitsu
Animation director: Yanase Joji
Character design: Tsutsui Momoko
Screenplay: Matsuda Shozo
Music: Sakata Koichi
Art director: Shibata Chikako
#6: The fruit of Olympus
Original work: Tanaka Hidemitsu
Director: Matsushima Akiko
Animation director: Yazawa Norio
Character design: Yazawa Norio
Screenplay: Matsuda Shozo
Music: Yamamoto Junnosuke
Art director: Yamamoto Junko
Storyboard: Kasahi Hiroshi
#7: Botchan Part one - The new professor gets mad!
Original work: Natsume Soseki
Director: Kondo Eisuke
Animation director: Kitahara Takeo
Character design: Motomiya Hiroshi
Screenplay: Miyazaki Akira
Music: Shimazu Hideo
Art director: Kudo Ken'ichi
#8: Botchan Part two - Defeat Red Shirt!
Original work: Natsume Soseki
Director: Kondo Eisuke
Animation director: Kitahara Takeo
Character design: Motomiya Hiroshi
Screenplay: Miyazaki Akira
Music: Shimazu Hideo
Art director: Kono Masamichi
#9: From "Harmonium and fish town" in Wandering Days
Original work: Hayashi Fumiko
Director: Okabe Eiji
Animation director: Iimura Kazuo
Character design: Ishino Hirokazu
Screenplay: Miyazaki Akira
Music: Yamamoto Junnosuke
Art director: Kawano Jiro
#10: The dancing girl
Original work: Mori Ogai
Director: Ishikuro Noboru
Animation director: Shimada Hideaki
Character design: Shimada Hideaki
Screenplay: Yoshida Kenji
Music: Sakata Koichi
Art director: Kaneko Hidetoshi
#11: Asunaro story
Original work: Inoue Yasushi
Director: Suda Yumiko
Animation director: Shibayama Tsutomu
Character design: Kobayashi Osamu
Screenplay: Yoshida Kenji
Music: Yamamoto Junnosuke
Art director: Tanaka Shizue
#12: A roadside stone Part one - Dreams of middle school
Original work: Yamamoto Yuzo
Director: Okabe Eiji
Storyboard: Kurokawa Fumio
Animation director: Ishino Hirokazu
Character design: Mori Yasuji
Screenplay: Yoshida Kenji
Music: Shimazu Hideo
Art director: Tojo Toshihisa
#13: A roadside stone Part two - Hard days
Original work: Yamamoto Yuzo
Director: Okabe Eiji
Storyboard: Kurokawa Fumio
Animation director: Ishino Hirokazu
Character design: Mori Yasuji
Screenplay: Yoshida Kenji
Music: Shimazu Hideo
Art director: Tojo Toshihisa
#14: Growing up
Original work: Higuchi Ichiyo
Director: Kumada Isamu
Animation director: Kumada Isamu
Character design: Kumada Isamu
Screenplay: Kuni Chisako
Music: Koroku Reijiro
Art director: Kawamoto Shohei
Key animation: Kumada Isamu, Shiraume Susumu
#15: The priest of Mount Koya
#16: Kwaidan: The tale of Hoichi
Original work: Koizumi Yakumo (Lafcadio Hearn)
Director: Kumada Isamu
Animation director: Kitahara Takeo
Character design: Kumada Isamu
Screenplay: Miyazaki Akira
Music: Sakata Koichi
Art director: Kubota Norio
Biwa: Tsuruta Kinshi
#17: Akagawa Jiro: Hometown casebook
#18: Akagawa Jiro: Voice from heaven
#19: The theater of life
Original work: Ozaki Shiro
Director: Okabe Eiji
Animation director: Kon Shinnosuke
Character design: Murao Mio
Screenplay: Nakanishi Ryuzo
Music: Shimazu Hideo
Art director: Uchida Tatsuhiko
#20: Season of the sun: A dangerous youth
Original work: Ishihara Shintaro
Director: Ishikuro Noboru
Animation director: Shimada Hideaki
Character design: Shimada Hideaki
Screenplay: Nagahara Shuichi
Music: Yamamoto Junnosuke
Art director: Kanemura Katsumi
#21:
#22: Sugata Sanshiro Part 1: Child of fate of Kodokan
#23: Sugata Sanshiro Part 2: Mountain storm special attack
#24: Sugata Sanshiro Part 3: Showdown at Ukyogahara
#25: The harp of Burma Part 1: Noplace like home
Original work: Takeyama Michio
Director: Ishikuro Noboru
Animation director: Shimada Hideaki
Character design: Shiraume Susumu
Screenplay: Yoshida Kenji
Music: Sakata Koichi
Art director: Ito Shukei
#26: The harp of Burma Part 2: Song of separation
Original work: Takeyama Michio
Director: Ishikuro Noboru
Animation director: Shimada Hideaki
Character design: Shiraume Susumu
Screenplay: Yoshida Kenji
Music: Sakata Koichi
Art director: Ito Shukei
#27: Akechi Kogoro: A walker in the attic
#28: Akechi Kogoro: A psychological test
#29: Akechi Kogoro: The red room
#30: The New Story of Tono
#31: Love climbing to heaven
#32: Shiro returns to the north
Original work: Togawa Yukio
Director: Matsushima Akiko
Animation director: Abe Masaki
Character design: Abe Masaki
Screenplay: Kuriyama Shizuyo
Music: Yamamoto Junnosuke
Art director: Yamamoto Junko
#?: Student Days
Original work: Kume Masao
Director: Matsushima Akiko
Storyboard: Kuzuoka Hiroshi
Animation director: Kiyoyama Shigetaka
Character design: Kiyoyama Shigetaka
Screenplay: Matsuda Shozo
Music: Yamamoto Junnosuke
Art director: Yamamoto Junko