(Cue Jaws theme)
Tatakae!! Iczer-1 is one of the classic OVAs of the early days of direct-to-video anime in the mid-80s. I don't remember if I saw it back in the day, so if I did, it didn't leave much of an impression on me. I just re-visited the three-episode series and found it to be a fairly pleasant time-capsule from that era of anime history - a dense summation of the predilections of fandom at that time.
One of the pioneer releases in the nascent direct-to-video format, Iczer-1 brims with youthful enthusiasm and energy. You can sense that the young director and animators were excited about the newfound freedom the OVA format offered, because they reveled in drawing their favorite things. The OVA amps up the volume on all of the things that were obviously the main fetishes in the fan community of the day - cute girls, first and foremost, but also mecha action, FX animation and gruesome monsters. All of those things are animated and drawn in a more loving, fetishistic way than ever before.
From a strictly technical point of view, there is a lot of nice animation in Iczer-1, which makes the series hold up pretty well despite its 25 years. OVAs became known for having higher production values (midway between TV work and movie work), and Iczer-1 was one of the shows that pioneered that impression.
As an FX fan, I'm particularly impressed by the volume of realistic, ornate natural FX animation of scenes of destruction. Kanada-style timing and effects abound when the characters fight one another, and it's some of the more richly realized of the era. The robots are drawn and animated with verve by a young Masami Obari in one of his earliest gigs. The monsters designed and presumably animated by Junichi Watanabe possess the requisite ick factor - they're revolting, in a deliberate, horror-movie kind of way, with insectoid features and appendages that look like brightly colored internal organs.
The story itself is not much to write home about, but it's not meant to be groundbreaking. It uses all of the tropes of fandom to create an entertaining package aimed strictly at contemporary anime fans. They weren't aiming to make films for the ages with these OVAs. They were testing the waters of a new market to see if they could find a way of selling anime directly to fans. Thus the content of OVAs was tailored towards the taste of fans. That said, even separated by a gulf of time and culture, I still enjoyed watching this OVA, because there's a lot more to it than just cute girls. The staff were obviously really into what they were doing, and that enthusiasm elevates the material. You sense that they're excited at the thought that they're exploring new territory, doing something nobody else has done. This series probably did set a certain kind of standard for everything that followed.
AIC, who produced Iczer-1, went on to continue building on this model with other OVAs in the ensuing years, becoming the pioneer of this kind of fanservice-based production. Their work in the 80s holds a morbid fascination for me: Consistently impressive in execution and artist-driven, always featuring good work from an array of talented animators and designers, but championing the worst tendencies in anime. I can't lie: When I first began watching anime, I enjoyed watching many an AIC OVA. They pushed all the buttons I wanted pushed. The cute girls, the wild action, the gore - everything I loved about anime was studiously jam-packed into those OVAs. Many years later, older and more cynical, their work strikes me as a fascinating combination of genuine love of animation and blind business opportunism.
Director Toshihiro Hirano was also behind several other memorable OVA series at AIC in the following years. It's undoubtedly his enthusiasm for the material that pushed this production to the next level. Unsurprisingly, the original story came from an ero manga, but it was considerably changed by Hirano, presumably toning down the erotic element, to the extent that the anime is probably more 'inspired' by it than a strict adaptation.
Hirano had originally started out studying at design school to become an illustrator, but was depressed when he realized that everyone around him was more talented than him, so he turned to anime. He wasn't serious about the whole anime thing for the first few years while doing subcontract animation for various studies like Studio Number 1 (the studio where Yoshinori Kanada was employed at the time with other like-minded animators) and Tomonori Kogawa's Bebow on shows like Dr. Slump and Urusei Yatsura.
This changed slightly when he worked on Macross and became something of a star of the show. He was interviewed and drew illustrations for magazines. He became less casual about anime after that. It was while Hirano was working at Noboru Ishiguro's Artland on their new OVA/movie Megazone 23 that he met Toru Miura, president of AIC, who was temporarily at Artland working as the film's producer. Hirano was dissatisfied with the film, and Miura offered him the chance to do a new project he was considering doing at AIC, so Hirano jumped at the chance and left Artland for AIC.
Iczer-1 was Hirano's baby. He not only wrote, storyboarded and directed, he was also character designer and an animator. He put his everything into the show, and even interviewed many years later he maintains the conviction that he achieved everything he set out to achieve with this anime. Iczer-1 is what Toshihiro Hirano is all about. Take that however you will.
I can't quite put my finger on what it is that defines this as a Toshihiro Hirano Production. What is that he feels with such conviction that he achieved with this film? Perhaps it's its pioneering combination of erotic with sci-fi trappings: Naked teenage girl piloting giant robot wards off invasion of lesbian aliens. It's probably a combination of this basic idea - cute girls piloting robots in skimpy clothes - and the epic yet self-consciously frivolous plot and tone, combined with his particular design style and the unprecedented, maniacal level detail in the drawings and the animation. The characters take their story quite seriously, but you're obviously not meant to. Also, Iczer-1 seems delicately attuned to cover the range of anime subgenres, providing something for every otaku taste - something for the cute girl fans, the robot/tokusatsu fans, the military freaks, the Kanada-style animation fans, etc. OVAs were the Cambrian explosion of otaku pandering. (Bonus question: Was Iczer-1 the father of tentacle porn anime?)

Examples of the different styles of effects that occur throughout the show
What I find genuinely appealing about Iczer-1 is its dense packaging of action and storytelling. Iczer-1 is certainly more entertaining than Megazone 23, so in that regard he did achieve his goal of improving on the film. He also undoubtedly achieved his goal of ratcheting up the fetishism, which he probably felt lacking in Megazone 23. Regardless of the merits of the material, Iczer-1 pulses forward at every moment and packs a lot of entertainingly choreographed action, highly worked drawings and animation, and entertainingly tongue-in-cheek splatter and melodrama.
Whatever it is, it set the tone for the next few years in OVAs, and seems to have sold pretty well, so it obviously achieved its goal. It's an impressive achievement in a business sense. The idea of releasing something direct to video was new - they didn't even know how much they should charge for the videos, how much people would be willing to pay. They entered a new market with an informed hunch that they knew how to exploit the advantages the new medium offered and target fans more directly. They did so by producing content tailored to what fans wanted to see, but that couldn't be done on TV or theater productions. They not only pulled it off, they were a big hit. They continued building on this approach over the years and developed a thriving business centered around selling characters. That's why they got so pissed at Shinya Ohira for what he did on the Hamaji's Resurrection episode of Hakkenden - the realistically ugly people he drew weren't marketable characters. At a very basic level, moe is about selling characters, and AIC were the early masters of that game.
OVAs exploded after Iczer-1. AIC alone produced dozens of different OVA series in the 80s. It was easy to get projects greenlighted, unlike today. All you had to do was tweak what had proven successful. Let's do a giant robo version of Iczer-1 = Dangaioh, Hirano's equally impressive follow-up. Let's do a more realistic robot show = Zeorymer. Let's do a monster show = Vampire Princess Miyu. AIC expanded full-force into the character business with games and goods. They added more studios, redoubling their productivity in the process. To date they have seven studios, two of which started up just this year. AIC has since shifted from OVAs to TV work. Far from fighting against the ascendancy of moe, they paved the way for it. AIC is very much in their element in today's TV industry and have been prolific over the last decade, with any number of shows on air in any given season.
As for the animation of Iczer-1, Hirano Toshihiro's wife Narumi Kakinouchi is a strong presence throughout every episode as the character animation director and one of the animators. She would later go on to make a name for herself at AIC with Vampire Princess Miyu and Ryokunohara Labyrinth. On the mecha side of things, Shinji Aramaki and Hiroaki Motoigi designed the mecha together with Masami Obari, while Obari oversaw their actual animation as sakkan. This was one of the first shows on which Obari's unique style of drawing mecha began to emerge and gain popularity. He loved drawing faces on the mecha, drawing them posed in very human poses, and drawing pieces on the arms and legs that mimic the look of muscles.
The first episode features a credit for a studio called "Pack", one of the few times I've ever seen it credited. Pack was a short-lived studio co-founded by Hiroyuki Kitazume. It was active from fall of 1984, when Hiroyuki Kitazume left Bebow to form his own studio, to March 1987. Other members included Hiroyuki Ochi, Hiroaki Motoigi, Satoshi Iwataki, Junichi Watanabe - all credited here - as well as Sai Morifumi. In 1987, Hidetoshi Omori joined them and they changed their name to Atelier Giga and produced Relic Armor Legaciam before disbanding. I'm not sure who the "Gengataro" person credited in episode 1 is. This seems to be the only place such a name occurs. Hiruko Nuruchi also appears to be a pen name - it appears in Pop Chaser, another AIC classic.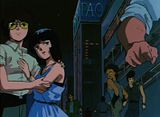 Kitazume's section is easily identified in episode one. He was doing sakkan work on Zeta Gundam at the time, and there's a shot in episode 1 that appears to depict Kamille and his girlfriend Fa from Zeta Gundam watching Iczer-1's battle, with what appears to be Tetsuo from Akira in the background, right next to a character from Shonan Bakusozoku Mirao Kyao from L Gaim, which Kitazume also worked on. A playful adlib by Kitazume, no doubt. The animation of the crowds running away right afterwards has an appealing Bebow flavor to the movement and drawings that clearly betrays Kitazume's hand.
Talented animators like Naoyuki Onda, Toshimitsu Kobayashi, Koji Ito, Hiroaki Goda, Hirotoshi Sano and even Koichi Arai join the fray in episodes 2 and 3. Most of these would go on to become regulars at AIC in the following years. I assume it must be largely these people whom we have to thank for the action scenes and FX animation in these episodes. I suspect Hiroaki Goda must have done the insanely intricate spaceship drawings like the one at right, since he is the one responsible for the maniacally detailed mecha drawings for which Metal Skin Panic Madox-01 from 1988 is best remembered. I'm not sure what mecha action specialist Koji Ito did, but it must have been either the robot fighting action or the natural destruction FX. The style of much of the FX animation looked to me like the work of Shoichi Masuo or Toshiaki Hontani, who were both involved in later AIC productions, so I was surprised to find neither of them credited. So I'm not exactly sure, if it's not Ito and not them, who did all that cool natural destruction FX animation.
There's a short section in episode 2 and in episode 3 that suddenly shifts to a totally different and much more appealing, very realistic drawing style that just screams Bebow. I'm guessing these to have been the work of Naoyuki Onda, who would go on to become a major player at AIC. His style evolved a lot over the years. I prefer his early work like this here.
---
Tatakae!! Iczer-1 animator list
Episode 1 (released October 1985)
Narumi Kakinouchi
(Pack)
Hiroyuki Kitazume
Junichi Watanabe
Gengataro
Satoshi Iwataki
Hiroyuki Ochi
Yoshiharu Fukushima
Hiruko Nuruchi
Koichiro Toda
Episode 2 (released July 1986)
Naoyuki Onda
Toshimitsu Kobayashi
Yoshiharu Fukushima
Koji Ito
Tenshi Yamamoto
Ken Ueno
Shin Matsuo
Narumi Kakinouchi
Masami Obari
Toshihiro Hirano
Episode 3 (released March 1987)
Naoyuki Onda
Michitaka Kikuchi
Hiroaki Goda
Osamu Tsuruyama
Hiruko Nuruchi
Hirotoshi Sano
Kenichi Onuki
Yuu Tadaka
Koichi Arai
Junichi Watanabe
Narumi Kakinouchi
Masami Obari