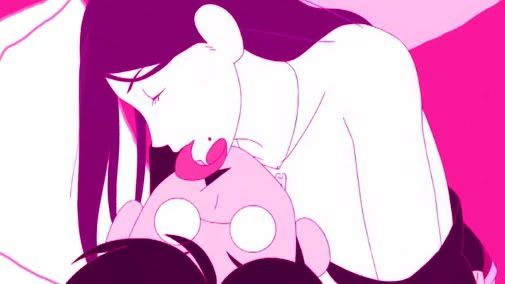 This was the most youthful and energetic feeling episode. That's saying a lot. Each episode so far has been full of hustle and energy. But this one felt particularly lively and full of enthusiasm for some reason. I suspect the reason is because it's storyboarded and directed by Shingo Natsume, an animator about whom I've been quite enthusiastic since discovering him due to his work on Welcome to the NHK (another connection!). He apparently directed his first episode quite recently, on that same mermaid show where Ryotaro Makihara directed episode 11. He directed the extra, DVD-only episode 13. Apparently it involved a number of the small community of younger firebrand animators who all seem to work on each other's projects these days. A lot of them seem to have connected on Guren Lagan. Shingo Natsume worked on Guren, and a huge number of these young talented animators seem to have helped out on this episode as a favor to him. It seems to happen often that when a young talented animator does his first sakkan or enshutsu, it turns into a sakuga bash with all sorts of animator stars coming out of the woodwork to help out, like happened with Tatsuzo Nishita's episode of Gaiking
That's what this episode was - a bash of young animators, many ex-gif animators, like all those episodes on various shows directed by Hiroshi Ikehata. Coming after the very small teams of the previous episodes, this one was a huge team. The animator list filled the entire screen. And there were tons of the names we've become familiar with over the last few years in various places. I'm sure there are plenty that have done good work in places that I'm not aware of, but I recognize quite a few of them. Kikuko Sadakata is of course the well-known Gainax animator; Shingo Yamashita the ex-gif animator who's done so much great work, notably on Birdy; Yoshimichi Kameda is probably the star animator of the current FMA show; Tomoyuki Niho is the old guard of the new generation, one of the first ex-gif animators to go pro, back on those Satelight productions of a few years back like Aquarion and more recently Birdy; Tamotsu Ogawa first came to people's attention with a crazy sequence in that infamous episode 7 of Bokurano, and has since done a lot of other crazy sequences with lots of weird deformation including a nice one in the 2008 Doraemon movie (a disregard for beautiful drawings seems to be a trend among these animators); Shingo Fujii did good work on the Ikehata episode of Soul Eater; Fumiaki Kouta has done lots of great work in various places in the last few years including Prototype recently (Fujii was there too); Toshiyuki Sato is another Ikehata regular; and Akira Amemiya needs to introduction - another one of the new generation of 'mover' animators Shingo Natsume presumably met at Gainax while working on Guren.
So this would be the second episode Shingo Natsume has directed, and boy, he really put his all into it. This was an incredibly tightly directed episode, packed with so many ideas and so many different textures. It was a hilarious romp through the college student's first sexual experience - or would-be sexual experience. Personally I don't understand why he didn't do it. I found that kind of annoying in a typical anime way. That's my main gripe about this episode. Otherwise, the amazing tension that Natsume builds up in the climax is... wow. The way it was all put together cutting frantically between the cool collage cowboy Johnny, the boiling kettle about to blow its load, the various denizens of the protagonist's sexually aroused brain all communing about the emergency situation like the Cerebellum and the Noiseman-looking Parietal Lobe, and the surreal sexual advances of the dentally obsessed girl (Hanuki is a homonym for 'dental extraction')... just wow. That was some inspired and very fun directing. The tongue was just awesome. And my favorite shot? The fingers going into the (...) which at first looks like fingers going into a (...). Brilliant!
Otherwise I didn't like the whole setup with the protagonist acting like a typical anime character caught between three girls he can't choose between. Was this intentional? I think it might have been. Though I can see that each girl is probably symbolic, standing for a different kind of attraction, bla bla bla. My other gripe: The episode felt too Gainaxy. I don't know how to explain it. Too manic in a self-consciously comic way. But I don't want to press the point. It's an amazing near-debut for Shingo Natsume, and a great followup to Ryotaro Makihara's episode. I've got this fetish or obsession with seeing my favorite animators become great directors, and I just got a double serving. I love the feeling of frank sexuality that he achieves in the episode, and all the humorous metaphors and symbols he uses. So many great images, like Hanuki lasciviously embracing that phallic tower.
As usual, one of the sub-characters took the lead role again, and it was interesting seeing how the various sub-characters' roles were shuffled around, particularly how Higuchi only got mentioned peripherally by the girl making that gesture with her chin when she says she's got a date with a certain guy. The other girl who he was supposed to meet that night seems to serve a similar role as the daughter in the previous episode, the unobtainable beauty, and the doll character belonged to the protagonist this time around... quite fascinating. There's an amazingly complex web of significance being woven here and throughout the show.
Storyboard & director: Shingo Natsume
Animation directors: Shouko Nishigaki & Naoyuki Asano
Supervising animation director: Nobutake Ito
Animators:
(deep breath)
Takao Yamagishi, Mai Tsutsumi, Kikuko Sadakata
Yosuke Okuda, Katsunori Shibata, Yuuki Komatsu
Tetsuo Moronuki, Shingo Yamashita, Keita Nagasaka
Takeo Oda, Yoshimichi Kameda, Tomoyuki Niho
Tamotsu Ogawa, Maya Segawa, Shingo Fujii
Tatsuki Kanezaki, Erukin Kawabata, Satoshi Nakura
Fumiaki Kouta, Shin Wakabayashi, Toshiyuki Sato
Shintaro Douge, Shouko Nishigaki, Shingo Natsume
Seconds:
Takayuki Hamada, Ryotaro Makihara, Natsuko Shimizu
Sawako Miyamoto, Satomi Higuchi, Nobuhiro Takefuji
Takeo Oda, Kenichi Fujisawa, Akira Amemiya