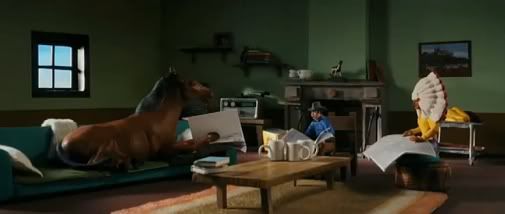 Remember that set of plastic figurines that you had as a kid? The one with the cow, the pig, the farmer, the indian, the cowboy and so on? Or was this a uniquely French thing? I distinctly remember playing with one of these sets as a kid, but I spent my childhood split between France and the US, and I can't quite remember whether this particular set was a French creation.
Either way, whether or not you can identify with the protagonist toys of this film, I'm sure the experience of playing with some kind of figurine as a kid is universal, and that's the essence of the 2009 Belgian feature A Town Called Panic, whose original title translates to Panic in the Village. The creators of this film put those very same toys through a hilariously freewheeling adventure that unfolds in the manner of the pitched battles and domestic dramas we used to improvise as children.
This film is simply a blast to watch. I can't remember laughing as much watching any other animated film, except maybe My Dog Tulip. But where My Dog Tulip is witty and adult and literary, A Town Called Panic is nonsensical and manic. I like that the humor here is unique. It isn't merely yet another iteration the same generic style of humor that pervades western animated features.
The humor comes not just from seeing these toys animated in the manner in which we'd move them as kids - such as making them "walk" by tilting them from side to side on their pedestals - but from way they evoke all of the ways in which we'd bring these toys alive as kids, from the naming of the characters (the horse figurine is named "Horse") to the way we'd speak the entire cast's dialogue ourselves in different voices. It's a brilliant reinvention of the 'puppetoon' style of animation in the context of childhood play acting. Using these figurines, they create a crazy and quick-paced narrative that has all of the gaps in logic and unpredictability of our childhood dramatizations.
The funny thing about that play acting is how the nature of the figures is kind of ignored. It's not a story about cowboys vs indians. Here, Cowboy, Indian and Horse all live under the same roof as a happy family. Horse looks like a horse, but like all the other animals, he behaves much like a human, brushing his teeth at night and reading the paper with his coffee in the morning. He's the leader, the level-headed one, but he's also kind of a softie, and he's secretly in love with the music instructor, a lady horse. The farmer's cows go out to pasture, but they can talk when need be, and they sleep in beds in the barn, like all the other animals. And they apparently enjoy heavy metal. The directors of this film do a brilliant job of parodying, which is to say reproducing in heightened form, the fractured logic and rudimentary approximation of social roles in our childhood play dramas, and sending them up in a fully realized manner that is riotously entertaining.
Play acting seems to be a universal rite of childhood during those early years when our brains are still struggling to figure out our place in the world. Toys provide a handy way of acting out our fantasies and experimenting with social roles, particularly so the unambiguous identities and tactile three-dimensional shapes of that cheap set of figures. I have a primordial recollection of marching the pig and cow around voicing dialogue in the way the creators of this film so brilliantly evoke.
This is a very densely packed and fast-paced film. It doesn't let up much. That can be good or bad, depending on the viewer. Some might find 75 minutes in this style exhausting and prefer it served in 10-minute chunks. And it could probably be argued that A Town Called Panic doesn't really have anything that distinguishes it as a feature-length film, since it's basically just a bunch of random stuff happening without too much logical underpinning, like the TV episodes in the series that have been produced since 2000.
But the film covers a lot of ground, and it's tremendously fun to watch how one strange event leads to another, and another, and yet another, in an unpredictable chain of events that can only be called epic in scope. I find that it's one of those curious exceptions to the rules. It works at what it's trying to do. You can't really judge the film as you would other feature-length animated films, according to measures such as quality of animation, depth of character development and thematic complexity. (although I do feel the animation is artistically interesting in that it's a new approach that is a logical extension of the material) It's as different as can be from any other feature-length animation out there, but at the same time more entertaining, or at least more blunt about it.
Though some of the humor may be lost with subtitles, I'm sure most of it still comes through. I was saddened, if not surprised, by the paltry turnout at the Vancouver premiere last night. It's definitely a quirky film, but it's an accessible kind of quirky, and I wish independent features like this could receive the same scale of publicity that Hollywood features do. It deserves a wide audience. Which is to say, you've gotta see this thing in a full theater. Even with only 15 people in the theater, the hall was filled with laughter. I can only imagine how fun it would be to watch A Town Called Panic in a full house.
All of the voices are excellent, and every little bit of dialogue comes across as funny in the original French. I have serious doubts as to how well it would work in the English dub, so I recommend seeing it in French. Even if you don't understand French, it's better to hear their delivery. Benoit Poelvoorde in particular is great. He's a Belgian actor whom I remember as the serial killer in the cult classic Man Bites Dog (I liked it so much back then I bought the Pioneer LD). He voice-acts for the first time here, and he's perfectly cast as Steven, who sounds apoplectic no matter what he says, viz this clip.