It sucks. Gone is the loving care of Ayumu Watanabe, replaced with the infantile pap of Nippon Animation. There's a song and dance sequence that crushed my soul. It took no less than three directors to maul the blue robot cat: Chief director Kozo Kuzuha, director Shigeo Koshi, and line director Shinpei Miyashita. This film is actually a remake of an older Doraemon film, like the first 'revamped' one from 2006 directed by Ayumu Watanabe, but the difference is vast. The film is flabby and by the book. The framing of the shots is kind of boring, with a lot of close-ups and uninspired TV-style layouts. The villain is (yet again) a westerner with an offensively large westerner nose. It's watchable (barely) but forgettable. You don't feel any particular love for the characters. Everything feels generic. And it's not just because the directors are Doraemon newbies. This is a typical problem with Nippon Animation productions. They talk down to kids. Even the colors feel dumbed down for kids, with lots of bright primary colors. It's Doraemon, you'll say, of course it's for kids. Maybe so. But I think the great kids films are those that are solid works of art and not just condescending pablum.
The animation isn't as lively or full of character in each sequence. There aren't really many sequences that feel there to showcase how fun a scene can be when you choreograph it well, do some great layouts, and get a great animator to animate it. Shizue Kaneko was the chief animation supervisor this time around, and there are three sakkans, which accounts for why it doesn't feel like it has as much of her character. I assume she must have taken a step back in the actual work. I was actually able to ID a number of sections pretty easily this time around. Masami Otsuka did the whole baseball scene before and after the opening sequence. Kind of lame casting him right at the beginning. His work was scattered around more in the last film. The bedroom scene right after this scene was nicely animated, though I don't know by whom. The tidal wave scene was obviously Yuichiro Sueyoshi. Sueyoshi's not new to Doraemon, but this is the first film he's done since the upgrade. The baseball sequence was by... surprise... Satoru Utsunomiya. I haven't seen a new sequence from him in ages. Where's he been hiding?? I assumed he was working on some big project, but nothing yet. Surprising to see him here. But frankly, the work didn't feel that good. It felt stale. More interesting work is being done by younger faces today. The running away part right afterwards was really nice, in fact better than the baseball sequence, sadly. Other good animators include Shizuka Hayashi, Motonobu Hori, Masashi Okumura and Fumiaki Kouta, so maybe it was one of them.
Sad to see the movies taking a nosedive like this, but not unexpected.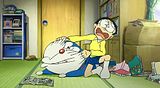 One thing I did still like about this film is that there were a number of scenes that continued to showcase the new concept behind the animation of the new show - 'yawaraka Doraemon' or 'soft Doraemon'. This idea first showed up in the 2007 film, in which Doraemon seemed like a plushie rather than the robot he is. It doesn't really make sense to make him seem all fluffy, but it actually works in some strange way. Anyway, it's real fun to look at. The pic here from the 2009 film is a great example. This new approach isn't just limited to the animation of Doraemon, of course. It's the general mindset towards animating all of the characters - they're more three-dimensional and pliable than before. Things were way more rigid in the old show. They've given themselves permission to take more freedoms with the forms, and it really enlivens the animation. Oh, and apparently Doraemon has teeth now.
Went through a few of the many episodes of Manga Nippon Mukashibanashi that are up on Youtube the other day. I was looking specifically for the ones by the interesting faces, and found several. This one was done by Shinji Otsuka in 1986. It's not quite what you'd expect from all of his work over the last decade in the big Ghibli & Kon movies, but you can still sense that an animator who knows how to make things move is helming this one, as there's more of a fundamental sense of character animation than in many of the other episodes, most of which have crude designs and move very sparely.
This one is by Hidekazu Ohara from 1989. He's the one responsible for the visual side of the wonderful Cannon Fodder episode in Memories, not to mention the awesome Professor Dan Petry's Blues. He's one of those creators who really stands out in anime for having a visual sensibility that's way, way different from all of the usual design cliches that dominate anime. He did quite a few episodes in Manga Nippon Mukashibanashi actually, and each one is pretty nice and different. I like the sinister mood and insane designs in this one, for example. He directed, animated and did the art for the latter, so it moves less, but it's great what a sense of integration he achieves between the art and animation. That's something that characterized Cannon Fodder. Like I said before, a lot of the designs on the show, though a refreshing change from the usual anime look, tend to be kind of crude, but you can tell Ohara is a great illustrator and animator who has a great sense of how to create a design that's interesting and well drawn. I mentioned before that Hidekazu Ohara started out at Topcraft, and I think that's what gave him that edge. I just noticed that another ex-Topcraft animator is in Cannon Fodder - Tadakatsu Yoshida - so maybe he was invited by Ohara.
This one is by Yoshiaki Yanagida from 1991. Yanagida is an interesting animator, though I know less about him. He did the Spirit of Wonder (AKA Miss China) OVAs, which are quite well made, despite the original designs from the manga on which the anime is based being kind of weird and the content of questionable taste. (what the hell is it with westerners with big noses in anime?!) The animation is rich and the drawings very well rendered. He started out at Ajia-Do and I think he's still there now. So he's been there on all of those shows that people over here watched many years back like Urusei Yatsura and Kimagure Orange Road and Nadia of the Blue Water and Fam and Ihrie. More recently he's done NieA_7 and Kaiketsu Zorori and Emma and Genshiken 2 etc. He was even in a few older Doraemon movies. Designs here are quite interesting, and he's good at effectively using very few drawings in the way that A Pro-school animators were so good at, alternating it with more fluid moments, like the dance bit followed by the kettle fall. (this episode is directed by Osamu Kobayashi, who did many episodes)